Scunthorpe UKIP candidate Stephen Howd has suspension lifted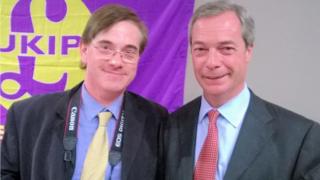 A UKIP parliamentary candidate accused of harassment at work has had his suspension from the party lifted.
Barrister Stephen Howd, 49, from Hook, East Yorkshire has been reconfirmed as the party's Scunthorpe candidate after UKIP said the allegation had been dealt with by his chambers some time ago.
However, the Bar Standards Board (BSB) said it was still investigating.
UKIP said the historical allegations were leaked in a "deliberate attempt to undermine" the campaign.
The party said Mr Howd was the "right man" for Scunthorpe.
A spokesman for barristers' regulator BSB said the actions of Mr Howd's previous chambers were entirely separate from its own investigations.
"As we have confirmed, we have received a complaint about Mr Howd and misconduct charges have been served in this case," he said.
Mr Howd was the Conservative Party's prospective parliamentary candidate for Cleethorpes in the 2001 general election.