Hull has the highest number of youth smokers in England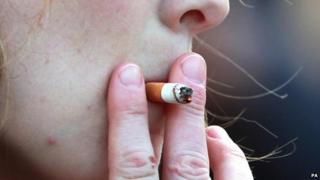 Hull is home to the highest number of young smokers in England, according to a new report.
An estimated 16.7% of 15-year-olds in the city are regular or occasional smokers, compared with a national average of 12.7%.
The study was commissioned by Public Health England and the National Institute for Health and Care Excellence (Nice).
The organisations aim to use the report to target anti-smoking campaigns.
Data on smoking rates was created using information provided by the universities of Portsmouth and Southampton.
A University of Portsmouth spokeswoman said that its research showed that across England nearly 8m people smoke, with 90% having started before the age of 19.
'Greater harm'
Professor Kevin Fenton, national director health and wellbeing for Public Health England, said the information would "help local agencies to focus efforts where they are most needed."
"Nationally youth smoking rates are falling and are at their lowest ever level," he said.
"But we know smoking rates vary considerably across the country and smoking causes greater harm to more deprived communities.
"We want to secure a tobacco-free generation and these figures will help us towards this goal. Our most disadvantaged communities have the most to gain."
Last week, the government said it planned to allow MPs to vote on the introduction of plain packaging for cigarette packets before the general election in May.