Beverley rugby player Adam Robson's 'two-hour ambulance wait'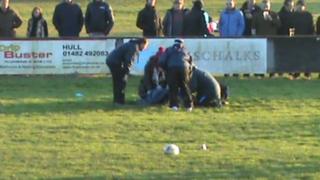 NHS bosses have apologised after claims a badly injured rugby league player had to wait two hours for an ambulance.
Beverley player Adam Robson, 23, broke his leg in two places and fractured his ankle in Saturday's cup final against Hull Dockers at Haworth Park in Hull.
His mother Jan Brooke, who is a doctor, helped treat her son on the pitch while waiting for paramedics.
Yorkshire Ambulance Service has apologised "for any distress caused following this 999 call".
A spokesperson for Yorkshire Ambulance Service NHS Trust added: "Demand for our service continues to be extremely high and we would like to reassure members of the public that we are making every effort to reach patients as quickly and as safely as possible."
The trust urged those involved with the incident to contact them "so we can discuss this with them directly".
Pat Howdle, head coach at Beverley Rugby League Club, said he knew immediately Mr Robson had been seriously injured after being tackled.
"Straight away we rung an ambulance," he said.
"We assumed we'd be waiting maybe 10 to 15 minutes.
"We kept waiting and waiting... Jan his mother contacted the ambulance again and said he was beginning to get very cold and starting to shake and starting to turn slightly blue."
'Problem with capacity'
Mr Howdle said a paramedic arrived 90 minutes after the player was injured.
An ambulance arrived 30 minutes later to take Mr Robson to Hull Royal Infirmary.
Ms Brooke, who accompanied her son to the hospital, said they had to wait for two hours in the ambulance outside the accident and emergency unit before Mr Robson was admitted.
Ms Brooke said she was told by hospital staff there was a "problem with capacity".
She said: "There was a queue of ambulances outside Hull Royal waiting to go into the foyer, where there were four stretchers with the ambulance people not being able to actually pass those patients on to the staff to get into cubicles to be seen to."