Rape accused detective Colin Andrews 'influential'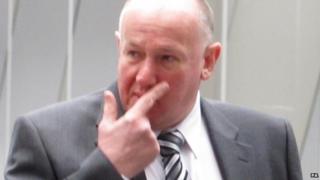 A senior detective with Humberside Police accused of raping a woman after a Christmas party was "connected and influential", a court has heard.
Former Det Ch Supt Colin Andrews, 58, allegedly carried out the rape in a hotel room, in December 2003.
He denies seven charges including rape, stalking and harassment.
The jury at Manchester Crown Court was told how another senior police officer was concerned about the force's reputation.
Ex-Det Ch Insp Mark Oliver, who was in charge of investigating the rape allegation against the father of one, said: "Officers were concerned about the dirt Mr Andrews would raise if he was prosecuted.
"He was a connected and influential person in Humberside Police.
"Chief Superintendent Heaton was worried about the reputation of Humberside Police and worried specifically about salacious details that Colin Andrews knew and whether they would be used as mud-slinging to defend himself."
Since the start of the trial, the court heard Mr Andrews being described as "controlling, manipulative and bullying".
The jury heard how he held his hand over the woman's mouth while he raped her.
The court also heard accusations of him pursuing a campaign of stalking and harassment against another woman in the summer of 2013, during which he sent thousands of text messages and emails.
Prosecutor Owen Edwards had said Mr Andrews "seems to have been going through a significant and sustained mid-life crisis".
Mr Andrews also denies two counts of common assault, assault occasioning actual bodily harm and witness intimidation.
The trial has been adjourned until 5 January.