Hull scheme for ex-trawlermen wins cash boost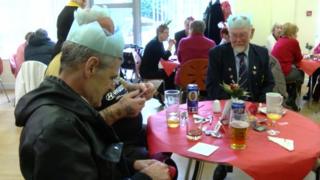 A project to tackle the problem of loneliness among ex-trawlermen in Hull has been given a cash boost by the city's healthcare providers.
The scheme run by the local Fishermen's Mission provides social activities for former fishermen and their widows.
It has been given a £5,000 grant as part of the Hull Clinical Commissioning Group's Healthier Hull initiative "to combat isolation and loneliness".
Events funded by the project include monthly meetings and a Christmas lunch.
The award was given after it was selected by a panel of 250 local people as one of the projects to be funded by the CCG.
Tracey Stephens, superintendent of Hull's Fishermen's Mission, said the port's fishing community had been "fragmented all over the city" following the decline of the industry in the 1970s and the demolition of houses in its traditional west Hull base.
'Active community'
Fishing families from the Hessle Road area were moved to new council estates on the edge of the city.
"I feel that we still really have an active community in Hull, even though we don't have an active fishing fleet," said Ms Stephens.
"It's a case of being able to bring people together to socialise and talk about the bygone days."
Ms Stephens said the anniversaries of trawler losses affected the families of those who died at sea, especially those who live on their own.
More than 6,000 trawlermen from Hull have died at sea since the start of the 20th Century.
One of the people enjoying the Christmas lunch was Fred Dove, who started fishing in 1965.
He said he had seen the community change massively in his 46 years at sea.
"It's very, very sad", he said.
"In its heyday, there were ships alongside each other. The docks were full and so were the markets."