Hull hospital wards closes amid vomiting bug outbreak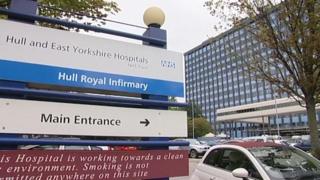 Two hospital wards at Hull Royal Infirmary have been closed to new admissions after an outbreak of the winter vomiting bug norovirus.
Hull and East Yorkshire Hospitals NHS Trust is asking the public to stay away from the hospital if they have diarrhoea and vomiting.
The trust said the closure of Ward 12 and Ward 70 added to the recent pressure on emergency care.
Patients are being asked to use use alternatives for non-urgent problems.
Prof Ian Philp, chief medical officer at the trust, said patients should use minor injuries units, walk-in centres and GP surgeries rather than the hospital's emergency department.
"We would now like to ask people visiting our hospitals to use their common sense," he said.
"If you have experienced diarrhoea or vomiting symptoms, then please do not visit until you have been symptom-free for more than 48 hours."