Hull hospital sends man, 90, home in taxi wearing pyjamas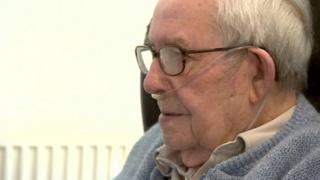 A family has complained to the NHS after a Hull hospital sent home their 90-year-old father in a taxi wearing only his pyjamas.
Cyril Naylor, who has dementia and mobility problems, left Hull Royal Infirmary last week without his family being informed of his discharge.
His daughter Linda Russell said she was upset by the incident.
Hull and East Yorkshire Hospitals NHS Trust said that parts of his discharge "did fall below the standards".
Ms Russell said the family was told her father would be taken home by the hospital transport service and they were surprised when he turned up on his own in a taxi.
Ms Russell said that staff should not have allowed him to travel on his own.
'Medical need'
She said: "Would you really think of sending somebody home with dementia, in heart failure, just allowing them to get a taxi?
"Nurses should be trained about the risks of just saying 'yes you can go home'.
"Yes, he's got so much capacity, but he hasn't got full capacity. He's got vascular dementia."
A spokeswoman for the trust said: "We have spoken with Mr Naylor's family and acknowledged that elements of his discharge from hospital did fall below the standards which should ordinarily be expected.
"In cases where there is a clear medical need, patients are always advised to wait for ambulance transport to facilitate their journey home, however patients still hold an element of control and choice in relation to the decisions made around their care and discharge."