New Hull Royal Infirmary ward to be craned into place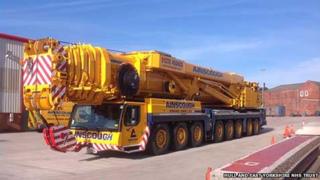 Work has begun to install a new 24-bed ward at Hull Royal Infirmary (HRI) using one of the UK's largest cranes.
The ward, made up of 24-prefabricated units each weighing about eight tonnes, will be lifted on top of an existing four-storey building using a 500-tonne crane.
The ward will then be connected to the hospital's main tower block.
Hull and East Yorkshire Hospitals NHS Trust said the new facility would help alleviate pressure during the winter.
The crane is expected to arrive on site on Tuesday and road restrictions will be in place from Sunday until 16 December while the work is carried out.
Duncan Taylor, the trust's interim chief of infrastructure and development, said: "The new ward will increase the number of medical beds we have on site and will help us to improve the care we provide to emergency patients in Hull and East Yorkshire.
"To ensure public safety is maintained during throughout the installation period, a number of access restrictions will be put in place around the site.
"These restrictions will affect how patients, staff and emergency services gain access to the HRI site over the coming weeks, so we are asking people to be mindful of this and to plan ahead if travelling to us".