Humberside Airport car crash man sentenced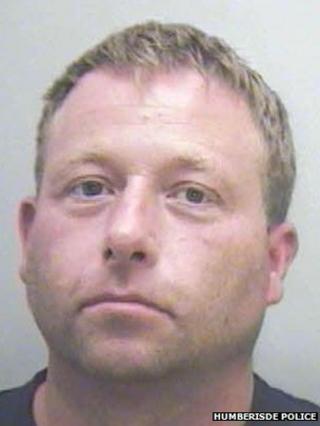 A man who crashed a stolen car through an airport fence and drove within a few feet of a helicopter as it took off has been jailed.
Matthew Dobson, 40, careered on to the runway at Humberside Airport on 5 August.
His actions left a passenger flight circling above while low on fuel.
Dobson was jailed for three years and eight months at Grimsby Crown Court. He admitted a number of driving offences and recklessly endangering an aircraft.
The court heard Dobson was pursued by police after he stole a car in Grimsby.
Following a police chase he smashed through the airport fence and drove underneath the helicopter, which was carrying 11 passengers, before abandoning the car.
Jeremy Evans, of the Crown Prosecution Service, said: "This bizarre crime spree was extraordinarily dangerous and reckless, putting many people's lives at risk.
"Matthew Dobson acted with utter impunity and demonstrated a complete and appalling lack of concern for his or anyone else's safety."
Dobson pleaded guilty to burglary, dangerous driving, aggravated vehicle taking, driving while disqualified and reckless endangerment of an aircraft at a previous hearing.