Bridlington transformed for Dad's Army film set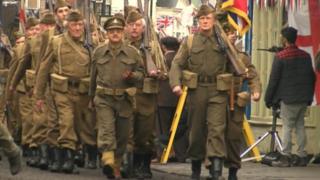 An East Yorkshire seaside town had its moment in the spotlight as a backdrop to scenes in the new Dad's Army film.
Hundreds of residents appeared as extras in scenes shot in Bridlington's high street earlier.
The movie's production team transformed the Old Town into the fictional Walmington-on-Sea in the 1940s.
Cast members Bill Nighy, Toby Jones, Sir Tom Courteney and Sir Michael Gambon joined more than 300 extras to create a St George's Day parade.
Filming started last month and the cast has been spotted at various locations on the Yorkshire coast over the last few weeks.
The original TV show ran from 1968 to 1977, attracting 18 million viewers at its height.