BBC Radio Humberside's radio star Betty Smith dies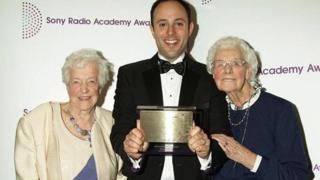 One of the stars of an award-winning BBC Radio Humberside show has died at the age of 93.
Betty Smith won a Sony Radio Award in 2012 along with co-presenter Beryl Renwick, then 86, and the show's presenter and producer David Reeves.
Smith and Renwick were the oldest winners of the prestigious radio industry award.
BBC Radio Humberside's managing editor Simon Pattern said the whole station was saddened at the news.
The duo first went on air in 2006 after meeting Reeves during a tour of the station.
'Cared deeply'
The weekly hour-long show was a mixture of music, chat and banter between the two friends, who met at an afternoon club in Hull in 1999 following the death of their husbands.
The show ran for six years on BBC Radio Humberside, which broadcasts across East Yorkshire and northern Lincolnshire, before the pair bowed out with a Christmas special in 2012.
After picking up the best entertainment show award, they became celebrities, appearing on the BBC's One Show, giving newspaper interviews and receiving offers to publish their life story.
Reeves paid tribute to Smith, saying he would miss her "energy and fun".
"Since the programme finished Betty's daughter Elaine would often tell me that the six years on air were the best years of her life," he said.
"Betty was a woman that cared deeply about making people happy and she certainly achieved that.
"I, along with her family and friends, will miss her dearly and the joy she brought to the Radio Humberside audience every week."