Humberside PCC Matthew Grove: Travellers situation 'appalling'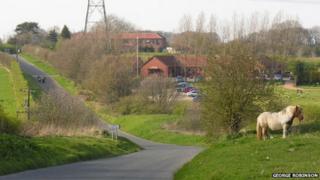 More legal sites are needed for travellers in East Yorkshire and Humberside, a Police and Crime Commissioner has said.
Matthew Grove, Humberside PCC, said the situation was "absolutely appalling" and authorities had "not got to grips" with travellers' needs.
He said the region required short-term, low-cost transit sites in areas which did not cause community tensions.
"There is nowhere for police officers to direct travellers to," he said.
"The public in the area are deeply unhappy because they feel a certain part of the community is completely ignoring the law.
"Representatives from the traveller and gypsy communities are equally unhappy."
'Nowhere legal'
Mr Grove said 80 tonnes of waste had been cleared from a site at Bransholme on the edge of Hull earlier this year, at a cost of £40,000.
"Many travellers have a permanent location elsewhere but are travelling through the area for cultural or business reasons.
"But there is nowhere in this region for them to legally stay.
"The travellers would pay for the transit sites, we could make sure they dispose of their rubbish properly and locate the sites somewhere it doesn't cause community tensions."
Mr Grove said he was "determined" to see improvements and was in discussions with Hull City Council about how to manage the situation.