Scunthorpe Lincolnshire Lakes 3,000-home plan approved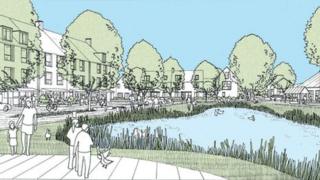 Plans for about 3,000 homes in two newly-created villages near Scunthorpe have been approved.
Work on the Lincolnshire Lakes development, west of the town near Burringham and Gunness, is expected to start in 2015.
It will be one of the first phases of the £612m development, which will see about 5,000 homes built by 2026.
But some people who were flooded during last December's tidal surge have called for a public inquiry into the scheme.
At a meeting on Wednesday, North Lincolnshire Council approved planning for the development, which also includes a business park and leisure facilities set among a series of artificial lakes.
Council leader Liz Redfern said the scheme would "increase business activity in Scunthorpe" and provide "better access to the town and quality homes" for residents.
Gunness Parish Councillor Anne Craddock said: "With it being on a flood plain, people won't get insurance after the last flood.
"I know people at Burringham that have been flooded and want to sell their houses.
"One lady sold hers, then they had a call back [from the buyer] to say they couldn't get insurance because it had been flooded. So what's going to happen with this new development?"
Developer Lucent Group said it was looking at "minimising the risk of flooding" in the area.
Charles Forsyth, of Lucent Group, said: "We are strengthening the floodbanks and defences both around our new development and also to provide increase protection to the villages of Burringham and Gunness."
The plans also include a new primary school, community centre and retirement home, as well as new access roads and local shops serving the villages.