Work starts on Bridlington's Leisure World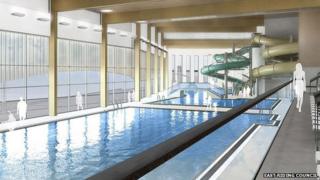 Work has started on a £25m leisure centre in East Yorkshire.
Bridlington's Leisure World, which opened on the seafront in the 1980s, was demolished earlier this year because the building was beyond economic repair, the council said.
Under the plans approved last October, the new facility will have a 25-metre pool and a leisure pool with flume rides, a sports hall and health suite.
East Riding of Yorkshire Council expects the new centre to open in 2016.
Council leader Stephen Parnaby said: "This is a very exciting day for the people of Bridlington and indeed for future visitors to the town.
"I am absolutely delighted that, after a very interesting and productive archaeological dig on the site over the summer, we are now able to start work on a project, which will bring state-of-the-art leisure facilities to the town."
The project has been partly funded by Sport England and the Coastal Community Fund, which awarded the council £2.1m earlier this year.