Cleethorpes Pier closes down to undergo refurbishment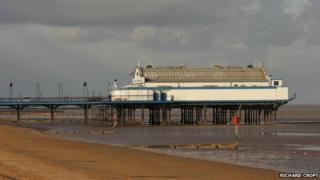 A Humber landmark has closed for the winter to allow major refurbishment to begin.
Cleethorpes Pier is being redeveloped to include a 360-degree boardwalk, a variety of amenities with views out to sea and an events centre.
The refurbishment is expected to be completed next spring.
Managing director Simon Huxford said several local businesses had already registered interest in hosting events at the pier.
He added: "We have some exciting ideas and opportunities and we'll be working hard during the refurbishment to ensure that the pier is a place to be proud of in 2015."
Cleethorpes Pier, which was built at a cost of £8,000 and opened in 1873, was previously used as a nightclub.