Grimsby Peaks Parkway speed limit raised against police advice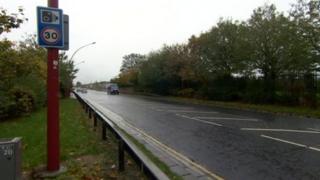 The speed limit on a road in Grimsby is to be increased by 10mph despite objections by the police.
Councillors in North East Lincolnshire agreed to raise the limit on a section of the A16 Peaks Parkway to 40mph.
Humberside Police had objected saying there were no "reasonable grounds for the proposals".
The decision was prompted by a 2,000-signature petition calling for the change after the introduction of average speed cameras last October.
The force was the only organisation to object to the proposals.
In a letter, Humberside Police said the current 30mph speed limit cut congestion and the resulting lower driver frustration helped reduce the risk of accidents.
It also said: "There is no evidence which supports raising the limit for the benefit of casualty reduction or road safety."
Chris Shaw, Labour leader of North East Lincolnshire Council, said it was safe to raise the limit and Humberside Police had failed to provide evidence to back up its objection.