Flamborough helicopter crash victims named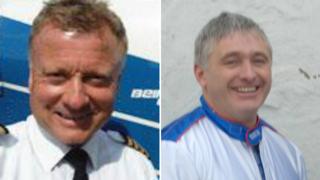 The two men who died when a helicopter crashed off the East Yorkshire coast have been named by police.
The pilot was Capt Brian Bridgman, 58, from Canterbury, Kent and the passenger was 50-year-old John Kent, from Romford in London.
The aircraft was on a flight from West Lothian to Nottinghamshire when it crashed into the sea at Flamborough at about 13:40 BST on Tuesday.
The Air Accidents Investigation Branch (AAIB) has started an inquiry.
Humberside Police said the force was working alongside the AAIB and was "offering support to the families" of Mr Bridgman and Mr Kent, whose bodies were recovered from the wreckage at about 17:00 on Tuesday.
Mr Bridgman was chief pilot for the Kent-based company Heli Charter Ltd.
The company said the aircraft was an Agusta/Bell 206 helicopter, registration G-SUEX.
It took off from Dechmont, near Livingston in West Lothian on Tuesday and was due to land at Humberside Airport for refuelling before flying on to Retford.
It crashed at Selwick Bay near Flamborough Head.
'Absolutely loved flying'
Mr Bridgman's son, Tim, 29, paid tribute to his father, describing him as "a fantastic dad and a brilliant pilot".
He said: "My sister and I could not be more proud of our father.
"He was not only a commercial pilot, but was also a qualified flying instructor, and a Civil Aviation Authority-approved flight examiner.
"My father absolutely loved flying. He sold his engineering business four years ago so that he could pursue his passion full time.
"Dad was always great company and had a massive circle of friends.
"He will be hugely missed by everyone he knew, and all those whose lives he touched."
The AAIB said efforts to examine the wreckage, which is thought to be 200ft (60m) below the cliff top, have been hindered by heavy fog and strong winds.
On Wednesday, AAIB engineer Andrew Blackie said it was going to be "challenging" to get to the aircraft wreckage because of an overhang and offshore rocks.
A spokesman for Heli Charter Ltd said one of their directors was in Flamborough at the scene of the crash.