North Killingholme gas power station given go ahead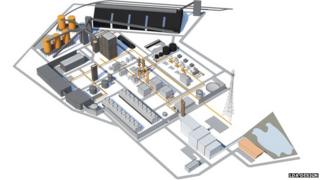 Plans for a gas-fired power station in North Lincolnshire have been given the go-ahead by the government.
The 470-megawatt plant at North Killingholme would generate electricity for up to a million homes and businesses, developer CGEN said.
The company said it could create up to 140 jobs. The plant is expected to be operational by the end of 2017.
The Department of Energy and Climate Change said there was a "national need" for the development.
Wim Heyselberghs of CGEN welcomed the decision and said it was a multi-million-pound long-term investment for the area.
On its website, the company said the plant would "emit at least 80% less carbon dioxide than existing coal-fired plants".
"It will help strengthen the UK's energy security and reduce the country's carbon emissions as some of the UK's ageing power plants are withdrawn from service over the next few years.
"In addition to electricity generation, the plant will have the capacity for providing steam and hot water to local industry and residents, known as combined heat and power (CHP)".
The secretary of state for energy said granting consent "would be consistent with energy National Policy Statements ...which set out a national need for development of new nationally significant electricity generating infrastructure of the type proposed."
CGEN said the power station would also "generate substantial employment for supporting services from the local area".