Humbrol development complete eight years after factory closed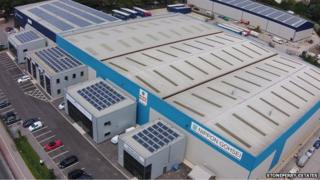 A major development on the former Humbrol site in Hull has been completed eight years after the model-making factory closed down.
The £15m Marfleet Environmental Technology Park is already home to companies including Nippon Gohsei UK and Middlegate Shipping.
Hull council said it was the first part of a 484-hectare (1196 acre) enterprise zone to be completed in the city.
Developer Stoneferry Estates said the park would employ up to 200 people.
The factory closed in 2006 when Humbrol, the parent company of model-makers Airfix, went into administration.
It was the target of repeated arson attacks before Stoneferry Estates bought the site in 2007.
Stoneferry Estates director Tom Healey said the technology park was built "during one of the worst economic environments seen in a generation".
The 2.7-hectare (6.7 acre) site is part of the Humber Energy Cluster Enterprise Zone created for the offshore wind sector and associated businesses, which means it has cheaper business rates and lower levels of planning control.
Hull City Council's regeneration and policy manager, Mark Jones, said: "Hull is a key gateway to Europe and it is essential that we maximise our position to attract further investment opportunities to drive forward ambitious regeneration and transform the economic future of our region.
"We are currently at a crucial stage in the city's physical and economic transformation and we are pleased to work in partnership with local companies like Stoneferry Estates who have vision and commitment to the city, bringing key sites to fruition."
In November, Stoneferry Estates is expected to start building a new office complex called Kingston Parklands on the site of the former Hull Maternity Hospital on Hedon Road.