Humberside Police tagging plan 'will cut reoffending'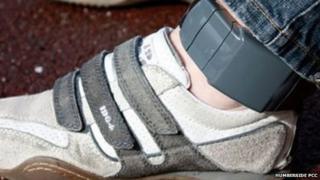 More criminals are to be tagged in a move Humberside Police claims will "significantly" cut reoffending rates.
Matthew Grove, the police and crime commissioner for Humberside, has granted £70,000 of funding for Buddi tracker devices.
The devices, which are fastened around the ankle, will be used to monitor offenders like burglars and paedophiles taking part in the voluntary scheme.
The force currently has 20 tags and will increase that to 40 by December.
'Brought to justice'
Humberside Police said the trackers had proved a success over the past 20 months, with more than 100 offenders agreeing to be tagged.
Det Ch Insp Darren Webb, who manages the Buddi tagging scheme, said: "The offenders who have voluntarily engaged in being fitted with the trackers have on the most part found it has helped remove the temptation to reoffend.
"Those who have gone on to offend have been identified and quickly brought to justice."
Police said a registered sex offender who was fitted with one of the tags was caught entering a public park against his licence conditions and arrested.
Mr Grove said the scheme was voluntary but it helped officers to identify those who did not cooperate as "being of high risk of reoffending".