Anti East Yorkshire boundary change campaign launched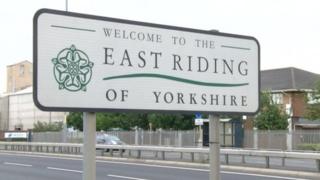 A group has launched a campaign against plans for Hull to expand its city boundary into parts of East Yorkshire.
Hull City Council has established a commission to examine a series of options to change its boundary with the East Riding of Yorkshire.
The East Riding is holding a referendum in September in its parishes which border Hull.
The Hands Off The East Riding campaign claims the East Riding would lose facilities if the change goes ahead.
The Mayor of Hedon, Conservative councillor John Dennis, said residents in East Yorkshire would lose their identity if they became part of Hull.
He said: "If we don't get the majority of the people in the East Riding engaging in the campaign and actually joining in with the referendum then Hull City Council will regard that as a lack of interest."
'Left out'
Labour-run Hull City Council's commission is to look at four options:
merging the two existing authorities
combining some council functions
extending the city boundary to bordering built-up areas
extending the boundary into travel-to-work areas as well as bordering built-up areas.
Stephen Brady, Labour leader of Hull City Council, claimed that combining together would give the area a stronger voice nationally.
"Every other area in the north is combining together for the benefits of their area and we are being left out in this region," he said.
"We don't have the influence and power that cities like Newcastle, Sheffield, Manchester and Leeds have got."
Mr Dennis said the East Riding referendum is not binding, but the result would be forwarded on to the Boundaries Commission who may be called on to make a decision on any change.