Rescue mission to save stranded East Yorkshire cows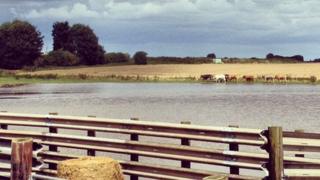 Farmers in East Yorkshire are working to rescue a herd of cows trapped by rising flood water.
More than 100 cattle became trapped on low lying land near the village of Burstwick.
Farmer Stuart Saunt said the problem was caused by a faulty sluice gate which was failing to stop tidal water entering the fields from the Humber Estuary.
The Environment Agency said it might bring in a water pump.
Mr Saunt said that recent heavy rainfall had increased problems caused by the broken tidal gate.
"The doors are supposed to close when it's high tide and open when its low tide to let the water out," he said.
"What's happened is that one door has been faulty for the last four months.
"People have complained and we are getting nowhere fast."
'Additional work'
In a statement, the Environment Agency said: "To help alleviate the flooding, we are looking into the possibility of using a pump on the watercourse, and we will be visiting the farmers to discuss other measures that could be taken.
"We carry out weed clearance along the Burstwick Drain as part of our annual works programme, and will look at the possibility of doing some additional work here."
Mr Saunt said he had managed to move about 30 of the herd of 100 animals to safety.
He added: "The biggest fear is that by night time we haven't caught them and then what's going to happen is that it's high tide again."