Bridlington's Sewerby Hall £2.6m restoration completed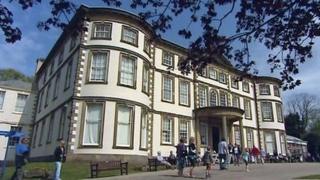 Restoration of an historic stately home in East Yorkshire has been completed after more than 18 months of work.
The £2.6m restoration has returned the interior of Grade I listed Sewerby Hall to the way it looked in 1910.
East Riding of Yorkshire Council was awarded a £949,900 grant from the Heritage Lottery Fund (HLF) in 2012, and said the remaining £1.6m would be paid for out of its capital programme.
The hall near Bridlington attracts about 150,000 paying visitors per year.
It was originally built between 1714 and 1720 by John Greame and a number of alterations were made in subsequent years.
Parts of the building were restored in 2001 to include Regency and Victorian features.
Using pictures from 1910, the hall's curator Janice Smith and her team reproduced rooms across the whole house, using furniture from the period, loaned by the national collection at the Victoria and Albert Museum, and the East Riding collection.
Ms Smith said: "The refurbished hall offers visitors a chance to step back in time and experience the house as it was around 1910.
"There are many more rooms open now than before the hall closed, including an Edwardian nursery with period toys and games, and a restored working kitchen with a coal-fired range."