Humber Bridge toll suspended for M180 roadworks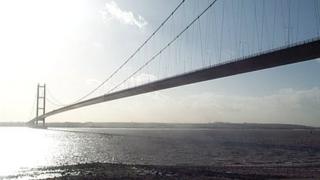 Motorists can use the Humber Bridge for free until midnight on Monday to alleviate "unprecedented" traffic caused by roadworks on the M180.
The toll-free period started on Thursday and has now been extended, the Humber Bridge Board said.
The Highways Agency has also opened one lane eastbound on the M180 between junctions 2 and 3 after it was closed by the work.
It is hoped the motorway will fully re-open by 06:00 BST on Monday.
The 25 mile (40km) M180 runs from the M18 towards the A180 in North Lincolnshire. The A15 Humber Bridge route joins the eastern end of the motorway.
Prepare for delays
Traffic around the route was gridlocked at times on Wednesday and Thursday and the Highways Agency acknowledged the work had been very disruptive.
Drivers have been asked to leave plenty of time and make sure they are prepared in case of delays around the area, the agency said.
A single crossing of the Humber Bridge usually costs £1.50 for cars and up to £12 for lorries.
The bridge cost £150m to build and opened in 1981, linking East Yorkshire with Lincolnshire.
It has a span of 4,625ft (1,410m) and was the world's longest single-span suspension bridge for almost 20 years.