Grimsby man charged after laser beam at police helicopter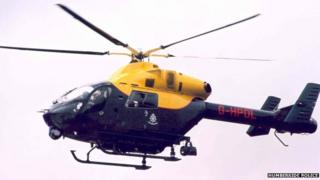 A man has been charged after a laser-like beam was shone at a police helicopter in North East Lincolnshire.
Simon Pearson, 40, of St Nicholas Drive in Grimsby, has been charged under the Air Navigation Order, Humberside Police said.
He was arrested about 01:30 BST on Thursday in the Winchester Avenue area of the town.
Mr Pearson has been bailed to appear at Grimsby and Cleethorpes Magistrates' Court later this month.
Article 222 of the Air Navigation Order 2009 prohibits shining any light at an aircraft with the intention of dazzling or distracting the pilot.