Grimsby Legionnaires' disease outbreak affects four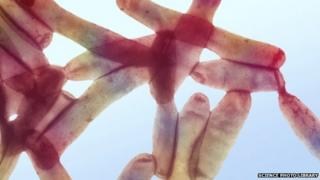 Four confirmed cases of Legionnaires' disease in the Grimsby area are being investigated by health officials.
Public Health England (PHE) said no common links have been identified between the infected people.
Dr Simon Padfield, from PHE in Humberside, said "all four patients are currently recovering".
Legionnaires' disease is a rare form of pneumonia that is transmitted by inhaling contaminated water droplets, with up to 15% of cases proving fatal.
Dr Padfield said the outbreak was first identified on 27 July but no source had yet been confirmed.
"Family doctors in the area have been contacted to ask them to be vigilant for patients with symptoms of Legionnaires' disease," said Dr Padfield.
"As cooling towers can often be associated with the spread of legionella bacteria, we will also be contacting the operators of major cooling towers in the area to ask them to introduce additional cleaning measures to ensure any bacteria would be removed.
"However, I should stress that no particular cooling tower has been identified as a potential source of infection at this time."