Humber Gateway offshore wind farm maintenance base opens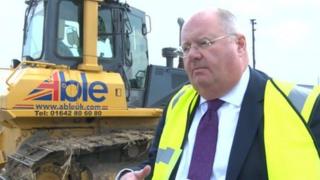 A new maintenance centre built to provide support to the Humber Gateway offshore wind farm has been officially opened.
E.ON's Humber Gateway wind farm, which lies five miles (8km) off Spurn Point, will have 73 turbines.
The facility, in Grimsby, was opened by Communities Secretary Eric Pickles.
Mr Pickles also visited the Able Marine Energy Park, at North Killingholme, where he announced a £15m investment in the project.
The maintenance centre is home to office space, equipment storage and vessel mooring, for use by staff operating and maintaining the wind farm.
Mr Pickles described the Humber region as an emerging "powerhouse in the British economy".
He said: "I'm delighted to open the latest addition to E.ON's state-of the art renewables operation which is bringing new jobs, revenue and expertise to the biggest Enterprise Zone in the country."
Construction of the wind farm is expected to be completed in 2015.
Announcing the investment in the Able Marine Energy Park, he said the money would ensure the marine energy park site would become a "strong, competitive part of this growing renewable energy hub".
Able has said the project is set to create more than 4,100 jobs.