Hull's 'expansion' plans anger neighbouring leader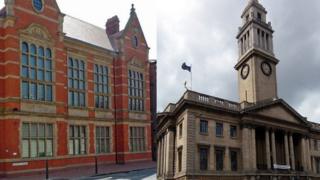 A council's decision to look at changing its boundaries has been called a "land grab" by the leader of a neighbouring authority.
Hull City Council has established a commission to examine a series of options to change its boundary with the East Riding of Yorkshire.
East Riding's Conservative leader, Stephen Parnaby, described the move as a "takeover bid".
Hull City Council said it wanted to ensure the city remained competitive.
"Hull City Council has set up a commission to look into boundary change with no discussion whatsoever with us," Councillor Parnaby said.
"What we have is a takeover bid by the city council and it is pretty crude - no frills or finesse - just a land grab."
'Increased investment'
Labour-run Hull City Council's commission is to look at four options:
merging the two existing authorities
combining some council functions
extending the city boundary to bordering built-up areas
extending the boundary into travel-to-work areas as well as bordering built-up areas.
The leader of the council, Stephen Brady, said the independent commission was about finding how local government could be most effective.
He added: "We are considering alternatives to the current boundaries to enable the city to take advantage of economic opportunities, playing our part as the driving force of the region in bringing economic prosperity and creating jobs."
In response, the East Riding is holding a referendum in September in 12 of its parishes which border Hull.
It will ask residents if they wish to remain part of the East Riding.
Councillor Parnaby added: "If Hull City Council takes over the surrounding towns and villages, the first thing to go will be the green open spaces separating Hull from the East Riding."