Hull anti-bullying charity faces closure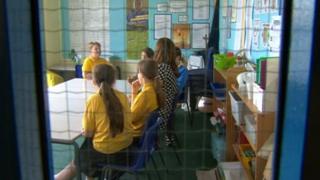 A Hull charity that works with children affected by bullying is facing closure after its funding ran out.
The Community Anti-Bullying Team said it would shut at the end of August if no further money is found.
It has operated in the city for more than 20 years and works with children referred by schools and doctors as well as running a helpline.
The organisation's chair Nieca Boynton said it was no longer taking on cases.
Ms Boynton said the position the charity found itself in was "heartbreaking".
"We're getting people ringing up trying to make referrals and we are having to turn them away," she said.
"Which makes it very difficult for the staff in terms that they're manning the phones and they're hearing such terrible stories of people being bullied and the effects it is having on the person or young child and also parents or carers."
'Terrible business'
The charity relies on grants from organisations such as the lottery and Children in Need for its £60,000 annual operating costs.
As well as working with victims of bullying, the charity runs preventative education work in schools.
Ms Boynton said that staff had spent the last two years applying to funders without success.
"Because we are such a specialist service, we don't fit neatly into any one category, " she said.
"It's not what you'd call a fluffy charity. It's not an attractive charity in terms of what we do because bullying is a terrible business."