Turfgrass fined over Lee Woodhouse turf-cutting death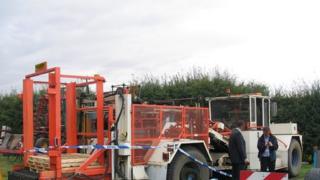 A turf company has been made to pay £100,000 after a man was run over by a 27-tonne turf harvesting machine he had been driving.
A hearing at Hull Crown Court heard worker Lee Woodhouse, 31, was killed by the harvester in September 2011.
York-based Turfgrass Services International Ltd was prosecuted by the Health and Safety Executive over a "preventable death".
The firm had admitted safety failings at an earlier hearing.
The Health and Safety Executive (HSE) said Mr Woodhouse, who was from Wilberfoss and had been at the company for a year, had been driving the harvester but got out to "observe or adjust the operation" of the machine.
Safety features disabled
After he was hit, the harvester continued to run until it hit a tree.
The HSE said a key finding was that a wire link had been put across the terminals of a relay switch.
This "defeated a number of safety features on the harvester including, crucially, the cut-off switch attached to the driver's seat designed to cut the operation of the harvesting machinery if the driver was not sitting in the seat," it said.
The court heard the harvester had operated with the safety features disabled since 2009.
Further investigation revealed that the safety features on another turf cutting machine being used by the same company had also been "deliberately defeated" in 2011.
Turfgrass Services International Ltd, trading as Inturf, of The Chestnuts, Wilberfoss, York, was fined £67,000 and ordered to pay £33,000 in costs for a breach of the Health and Safety at Work Act 1974.
After the sentencing, HSE inspector Andrea Jones said: "This was a tragic incident that has had devastating, and life-changing effects, on the whole family, particularly Lee's wife, two small children and his parents.
"The incident was entirely preventable."