Doctors resign citing bullying at Hull hospitals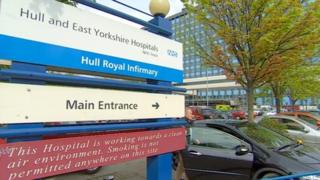 Two senior doctors have resigned from their posts at hospitals in Hull claiming there is a culture of bullying within the trust.
Dr Farqad Alamgir has left Castle Hill Hospital, claiming care is suffering because of a drive to meet NHS targets.
Consultant gynaecologist Wendy Noble resigned from her post at Hull's Women and Children's Hospital.
A Care Quality Commission report raised staff concerns and asked the trust to investigate.
Dr Ian Philp, from the Hull and East Yorkshire Hospitals NHS Trust said that the board "recognised the problem".
'Pooh-poohed'
Dr Alamgir, who worked as a cardiologist at Castle Hill Hospital for more than 20 years, claimed other doctors had left the trust over the issue.
He said: "The focus was not on the patients, the focus was on figures, numbers, and if you were not part of that, then you felt as if you had let down the organisation."
Ms Noble, who has taken up a post in Kuwait, said she had approached management with concerns about the treatment of junior doctors.
"I was really concerned about the quality of training, the quality of care we were able to deliver and I raised my serious concerns," she said.
"It was just pooh-poohed.
"It was suggested that I had ulterior motives by my manager."
Dr Philp claimed the trust was taking action to deal with staff concerns and admitted it had brought in the mediation service ACAS to listen to employees' complaints.
He said: "We can't change the culture overnight, but we can do some things quickly."