Hull gets £3m Arts Council England funding boost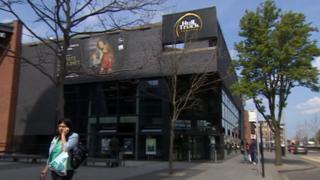 Arts organisations and museums in Hull will get more than £3m in arts funding over the next three years.
The city's museums will receive a share of £2.5m between 2015 and 2018 and will also join the Arts Council England's "major partner museums" scheme.
Hull Truck Theatre, which has been in financial trouble in recent years, will get a 45% increased grant of £791,000 per year.
Hull will be the UK City of Culture in 2017.
City boost
Sarah Maxfield from Arts Council England said the extra funding to the city was "exceptional" as most arts organisations across the country would get no increase in money over the next three years.
"Hull is different because we are trying to invest in the capacity of art and museums to build up to City of Culture in 2017," she said.
"City of Culture is a really significant boost to the city, not only in terms of the arts and culture but also economically."
Earlier this year, Hull Truck Theatre received £400,000 in emergency grants from the Arts Council and Hull City Council to help it out of a financial crisis.
The theatre's executive director, Janthi Mills-Ward, said the new Arts Council England funding showed "confidence" in the theatre's future.
"We want this to be a cultural hub," she said.
"It's a city resource. That's what's great about this additional funding, it means we've protected theatre for Hull residents."