Campaign to reopen Grimsby's ice rink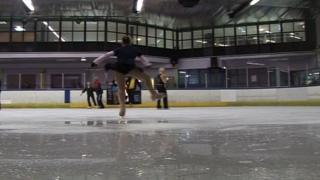 Skaters are campaigning to reopen Grimsby's ice rink which has been closed for more than two weeks following a mechanical failure.
Terry Tidswell, chairman of Grimsby Ice Hockey Club, said he feared the council would permanently close the rink.
An online petition calling for its reopening has attracted more than 800 signatures.
North East Lincolnshire Council said the closure was due to a failure of the refrigeration system.
Labour councillor Michael Burnett, portfolio holder for culture and sport, said the authority was considering options for the future of the rink, as new European legislation would mean the existing 40-year-old cooling system could not be used from January next year.
'Financially sustainable'
He said: "The council is investing in new amenities for the borough and the tender process for the build of a brand new leisure facility at the site is underway.
"We are also exploring options to bring a new ice rink to the borough, but this must be proved to be financially sustainable before being taken forward."
Mr Tidswell, who trains youngsters from the age of six, said that without the ice rink his club would "fold".
"A lot of the kids are heartbroken and devastated that they can't do any training," he said.
"My biggest fear is the council will find an excuse not to repair it and then it will shut it down."