Plane makes 'precautionary' landing in farmer's field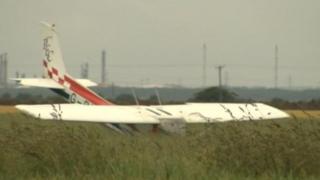 A light aircraft was forced to make a "precautionary landing" due to "adverse weather" in an East Yorkshire field, police said.
The two people on board were uninjured and the Air Accidents Investigation Branch said it was investigating.
Eyewitness Simon Taylor said he saw the aircraft circling overhead "getting lower and lower" at about 11:30 BST.
"It disappeared behind the hedge and we just saw the tail sticking up," he said.
"We came round the corner and we rushed into the field. Already the pilot was out and on the phone and he gave us a thumbs up to say he was OK."