Robber Neville Kitt jailed over fatal crash in Hull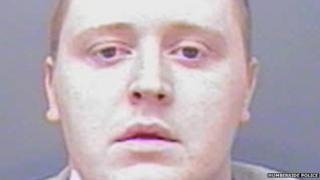 A man has been jailed for 14 years for causing the death of his accomplice in a motorcycle crash as the pair tried to escape after committing a robbery in Hull.
Neville Kitt, 30, was speeding away a newsagents he had robbed when he hit a car in Calvert Lane in October 2013.
Matthew Hutchinson, 25, a pillion passenger on the bike, suffered head injuries and died later in hospital.
Kitt pleaded guilty to causing death by dangerous driving at Hull Crown Court.
He also admitted affray, robbery, assault and possession of a prohibited weapon.
Other charges, which included burglary and theft, were ordered to lie on the court file.