Hull's £4.5m Castle Hill cancer scanning centre opens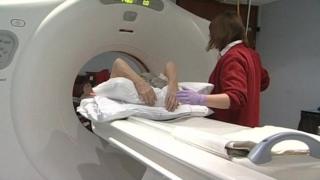 Thousands of people will benefit from a new permanent scanner based at an East Yorkshire hospital.
The equipment is one of the first of its kind in the country and will be based at Castle Hill Hospital in Cottingham, near Hull.
It replaces a mobile scanner based at Hull Royal Infirmary two days a week.
Medics hope the £4.5m scanning centre, which can detect cancer or heart disease, will speed up the diagnostic process.
Dr Ged Avery, consultant radiologist at the hospital, said it will allow patients who previously had to go to Leeds and Sheffield to be scanned near to home.
"Potentially we can now scan a greater number of patients than we could previously," he said.
"They should find that the scan time is less than it was in the mobile scanner and we can use the images to plan people's radiotherapy."
'Extremely proud'
The scanning centre was funded by medical research charity, The Daisy Appeal.
Trustee Andrew Horncastle said the new equipment is capable of scanning up to 4,500 people a year compared to 800 in the mobile unit.
He added: "We've worked very hard for this for a number of years and it's an extremely proud moment to be opening this centre and making it available to people in the area."
The appeal, which funded a £8m training facility and laboratory at the hospital in 2008, hopes to invest another £2m in developing the centre.
The University of Hull is also working with the NHS to develop research which could mean the scanner will eventually be used to diagnose other conditions, such as dementia.