Artwork trail revival hope for Yorkshire Wolds Way walk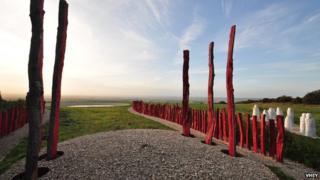 A stalled art project aimed at luring walkers to one of the UK's "least-used national trails" could be resurrected by an East Yorkshire council.
Ten giant sculptures were planned for the 79-mile (127 km) Yorkshire Wolds Way at a cost of £35,000 each.
The first was installed in 2011 but only three more sculptures were created before East Riding of Yorkshire Council's £140,000 funding ran out.
The council now wants to revive the art trail to bring more people to the area.
The walk starts at Hessle near the Humber Bridge and finishes at Filey in East Yorkshire, via North Yorkshire.
East Riding councillor Jane Evison said £15-20,000 needed to be raised for the next two works, which she said would be installed at Sober Hill near Newbald, and Hessle near the Humber Bridge.
Ms Evison said Arts Council England and a Defra rural community fund had financed the previous artworks.
She said the council would apply to them for funding again.
York Minster, Humber Bridge, Drax power stations and Flamborough Head can all be seen from the route.
"The Wolds Way is surprisingly England's least-walked national trail," Ms Evison said.
"We want an added interest and more visitors for this beautiful area."
Current works
The first piece on the route, Waves and Time (2011), was created by Chris Drury who has built natural sculptures in Nevada and Europe.
Enclosure Rites (2011) by Jony Easterby consists of an earthwork and posts inspired by nearby Bronze Age burial mounds and carved white figures inspired by Iron Age settlements.
Sky Mirror is a dew pond, once a common feature for providing water for animals on the dry chalk landscape of the Yorkshire Wolds.
A timber and glass shelter built at Fridaythorpe in 2012, designed by Leeds architects Bauman Lyons, includes a walkway to the village pond with views across the East Yorkshire landscape.