East Yorkshire medical dog breeder launches planning appeal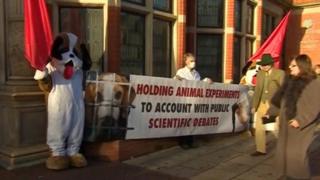 An East Yorkshire company which provides dogs for medical experiments has launched an appeal after plans to develop its site were refused.
The proposal for a breeding facility at B&K Universal at Grimston was rejected by councillors last year, against the advice of their own planning officers.
Protesters against the proposal submitted a 40,000 signature petition to East Riding of Yorkshire Council.
The firm said it had submitted an appeal to the Planning Inspectorate.
B&K Universal currently imports puppies and rears them at the site. The new unit would allow them to breed their own dogs.
Knock-on effects
The company said the new facility would not cause a "physical expansion of the site" and would not increase traffic or noise levels.
It also claimed that if planning permission was not granted "the future of the Grimston operation will be put in doubt, with possibly severe knock-on effects for jobs in the area."
One local animal rights campaigner, Deborah Minns, said she was "surprised" the company was appealing.
"I'm glad they've appealed," she said.
"It's put B&K Universal once again in the spotlight.
"They've shot themselves in the foot as far as I'm concerned, because this allows us to get this application again into the nation and Parliament."