£12m salmon fishing plan for River Derwent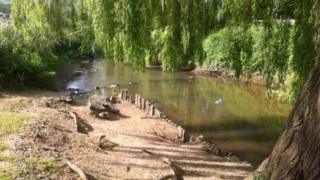 Salmon and sea trout are to be allowed into a Yorkshire river system in an effort to build a multi-million pound fishery in the area.
Fish travelling inland from the North Sea will be able to access the River Derwent when a barrage is opened.
The scheme, at Barmby on the Marsh in East Yorkshire, is expected to allow thousands of migrating fish to access the 72-mile river and tributaries.
East Yorkshire Rivers Trust said it would "add £12.5m to local economies".
The barrier at Barmby was built in the mid-1970s where the waterway joins the River Ouse near Drax power station to help abstract water.
It effectively closed off the the river to the Ouse and migrating fish because its boat lock, the only way through for fish, was only opened occasionally.
East Yorkshire Rivers Trust said anglers could potentially catch 500 salmon and 1,400 sea trout in the river each year.
Opening the barrage would "add £12.5m to the local economies in Ryedale and districts along the river," said John Shannon, the trust's Derwent restoration project officer.
The trust said the River Derwent was Yorkshire's largest river system covering 2,057 sq km (794 sq miles) and "is ideal for spawning".
At present Yorkshire's most valuable river is the Esk where anglers land 200 salmon and 600 sea trout each year.