North East Lincolnshire: Labour loses control after UKIP gains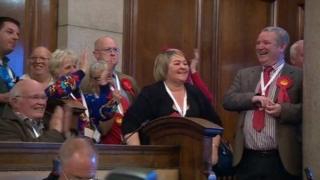 Labour lost overall control of control North East Lincolnshire Council as UKIP won seven seats.
The party picked up four seats at the expense of Labour, with two from the Conservatives and one from the Lib Dems.
UKIP councillor James Cairns, who won the Yarborough ward seat, said he was "pleasantly surprised" at the result.
Fifteen of the council's 42 seats were up for election.
UKIP previously held one seat on the council.
In Hull, Labour retained control of the city council but UKIP has won its first seat on the authority.
Labour won 13 of the 21 seats up for election, though former lord mayor David Gemmell lost his seat by nine votes to UKIP's Richard Barrett.
The Liberal Democrats took six of the available seats and the Conservative's one. Turnout was 26%.
UKIP came second in many wards and Labour group leader Stephen Brady said it was "too close for comfort".
He said all parties would have to examine why voters were turning towards UKIP.
Mr Barrett told BBC Radio Humberside earlier: "They've been in power the last four years, why haven't they dealt with [the] issues?
"Ultimately I want to make sure that the potholes and the bins are all dealt with."
One third of the council's seats were being contested.