Labour defends councils on both sides of the Humber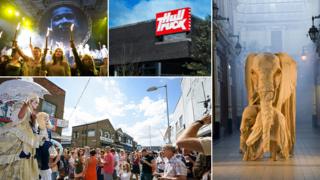 Labour is defending two councils on opposite banks of the Humber on May 22.
One third of council seats in Hull and North East Lincolnshire will be up for grabs on the same day voters go to the polls in the European elections.
Recent months have seen a spate of good news in Hull, such as the conformation that it will be UK City of Culture in 2017.
It comes after the announcement that wind energy giant Siemens is to create 1,000 new jobs in the area.
Huge challenge
But many politicians argue that Hull still suffers from a legacy of economic decline and the Labour-run city council - led by Stephen Brady - has had to make some tough choices this year with cuts to jobs and services.
Two former Labour councillors - Dean Kirk and Gill Kennett - quit the party in protest at this year's budget and formed their own Independent Labour group.
The Liberal Democrats will be hoping to reverse their losing streak in Hull, which began when they lost control of the city council to Labour in 2011 and resulted in further losses in 2012. The Lib Dems remain in opposition at the Guildhall.
High hopes
North East Lincolnshire is also led by a vocal critic of government spending cuts.
Labour's Chris Shaw claims his authority has faced a huge challenge to balance the books in recent years.
The authority has been Labour-controlled since 2012 and the Liberal Democrats have suffered heavy losses over the past four years from a position when they were the largest party in 2010.
The Conservatives now form the opposition on North East Lincolnshire Council.
UKIP boasts three councillors on the Grimsby-based authority and the Euro-sceptic party has high hopes of adding to its tally.