Work starts at South Ferriby cement factory after death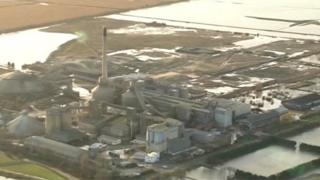 Work has resumed at a cement-making factory in North Lincolnshire after the death of a contractor at the site.
Police have not yet named the German worker who was in his 30s and died in an incident on Tuesday at the Cemex factory on Sluice Rd, South Ferriby.
The man was carrying out repairs after the plant flooded in the tidal surge on the Humber Estuary in December.
Cemex said all operations at the site had now resumed after they were suspended on Tuesday morning.
In a statement, it said: "The health and safety of our employees and all those working on our site is paramount.
"Following the tragic incident yesterday at our South Ferriby cement plant, the Health and Safety Executive (HSE) has handed the site back to CEMEX.
"Operations and the ongoing repairs following the flooding in December 2013 are now continuing.
"The company is working with the HSE and a thorough and detailed investigation is ongoing. It is our intention to understand as much as possible, in order to prevent another such incident.
"Our thoughts are with the contractor's family and friends," the company added.
HSE said its inspectors had left the site, and it would continue to investigate the incident with Humberside Police.