Arsonists blamed for Hull recycling fire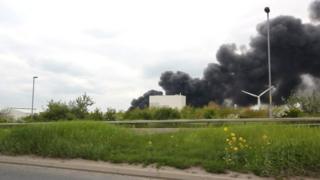 Arsonists are thought to have started a major fire at a Hull recycling plant.
Six crews were called to the fire, at Taylors Recycling Services in Century Road, Saltend, at 12:45 BST on Sunday, where packed paper was alight.
Police said the plant was "completely burnt to the ground" and were jointly investigating the circumstances of the blaze with the fire service.
The fire caused extensive damage to the site, which was estimated to cost more than £20,000, police said.
Humberside Police have appealed for witnesses to come forward.
No-one was injured but people living nearby were told to keep doors and windows shut while the fire was burning.
There were power cuts in neighbouring Preston and Hedon areas and the nearby A1033 Hedon Road was also closed both ways due to smoke blowing across the road.
"Every available police resource was deployed to the area, due to large crowds gathering, and traffic light failures in and around the area," Humberside Police said.