Hull East Park pool "future" assessed after sickness bug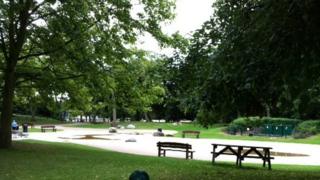 Experts have been brought in to assess a children's paddling pool in Hull after it was hit by a sickness bug outbreak last year.
The pool in East Park, on Holderness Road, was temporarily closed after 18 people contracted the cryptosporidium infection last July and August.
The parasite can cause diarrhoea, stomach pain, vomiting and fever.
Hull City Council said specialists were assessing "options available for the long-term future use of the area".
In a statement, the local authority said: "We expect these options to be available to the council by the end of May."
The council was prompted to bring in water play park specialists after a recent report from Public Health England.
The assessment comes weeks before it is due to open for the summer season, usually between July and September.
Margo Robertson, a volunteer at the park's cafe, said: "[The pool is] extremely popular with families.
"Lots of people are constantly asking the staff here questions: 'When's it going to open and be in action?'
"We're being asked this on a daily basis."