Humberside Fire Service to set up specialist flood centre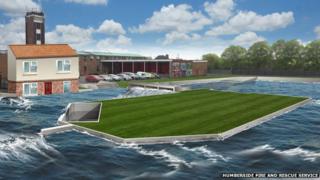 A new centre to deal with flooding is to be built by the fire service in Grimsby.
The service said the "Ark Project" would provide training facilities for firefighters as well as acting as a coordination centre during emergencies.
Thousands of homes across East Yorkshire were flooded in 2007 and in December the region was hit by a tidal surge, which caused extensive damage.
The centre at Grimsby's Peaks Lane Fire Station is due to open in summer 2015.
Humberside Fire and Rescue Service said it would feature a water tank large enough to submerge a vehicle and would have artificial rapids allowing crews to practise rescues in fast moving water.
Dene Sanders, chief fire officer, said the service anticipated severe weather and flooding would become a more regular occurrence in the future.
'Realistic environment'
He said: "This new training centre will be used to ensure our own staff are trained to the highest standard by simulating what happens when large scale flooding occurs.
"It will create a realistic environment for crews to train in water rescue scenarios, whilst simultaneously reducing training costs."
The December tidal surge was the highest ever recorded tide level in the Humber estuary and led to about 1,100 properties and hundreds of businesses flooding.