Veteran Labour MP Austin Mitchell to step down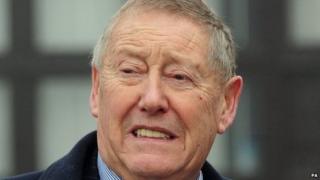 The veteran Labour MP Austin Mitchell has announced he will step down at the next general election.
Great Grimsby MP Mr Mitchell, 79, made the announcement at a meeting of his constituency party.
The eurosceptic MP, a former journalist, was elected in a 1977 by-election following the death of former Foreign Secretary Tony Crosland.
Labour will defend a majority of 714 in Great Grimsby in next year's general election.
Last July, Mr Mitchell had surgery to repair a leaky heart valve after fainting in the Houses of Parliament.
The MP was born in Bradford in 1934 and moved to New Zealand in the late 1950s to lecture at the University of Otago. He returned to the UK in the late 1960s.
He was a regional TV journalist for Yorkshire Television between 1969 and 1977, apart from a brief spell at the BBC in 1972.
In October 2002, he briefly changed his name to Austin Haddock to boost the profile of his constituency's struggling fishing industry.
The Labour Party leader Ed Miliband said Mr Mitchell would be missed.
In a statement, he said: "Austin has been a fantastic campaigner for the Labour Party. His commitment to the people of Grimsby is second to none and I will miss his humour, dedication and friendship.
"We will miss Austin and we thank him for his lifetime contribution to the Labour Party and to Parliament."