Swan shot with air rifle near Crowle in 'sickening act'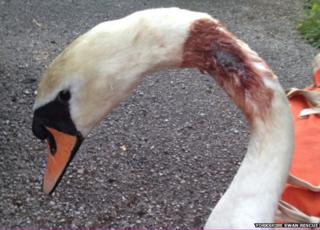 A swan has been shot with an air rifle in what a charity said was a "sickening act of blatant animal cruelty".
The injured swan was found by a Network Rail worker on the Stainforth and Keadby Canal near Crowle, in North Lincolnshire, on Thursday.
It was rescued by volunteers from Yorkshire Swan Rescue and is now recovering at a sanctuary in Barlow.
Dan Sidley, founder of the charity, urged anyone with information about the shooting to contact police.
"To our horror, an air rifle pellet has been found to be the cause of this terrible injury," Mr Sidley said.
"This means someone had deliberately taken aim and fired to cause deliberate and cruel suffering to this poor creature.
"This is a sickening act of blatant animal cruelty, and we would welcome anybody with further information on the shooting of this swan to contact us, so we can pass it on to the police."
It is a criminal offence to intentionally injure, take or kill a wild swan.
The swan is one of a nesting breeding pair and Mr Sidley said he hoped it could be returned to its mate once fully recovered.