Stolen Crufts puppy found in Warrington by jogger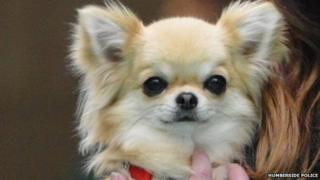 Five dogs, including a Crufts champion, stolen during a house raid in East Yorkshire have been found and are to be reunited with their owner.
The Chihuahuas, said to be worth several thousand pounds, were stolen from a property on Allison Lane in Lissett, East Yorkshire, on Thursday.
Humberside Police said the dogs were found by a man jogging along a farm track in Warrington, Cheshire.
Officers said the owners were looking forward to being reunited with them.
One of the dogs stolen was a Chihuahua called Xena, who was named Best Puppy in Breed at Crufts in March.
Other dogs taken in the robbery included Xena's grandmother Angel, her mother Lo as well as two others named Pandora and Evie.
Police said the dogs "looked dishevelled and in need of food and water" when they were found by the 30-year-old jogger.
Officers mounted an appeal on social media to find the Chihuahuas.
On its website, Humberside Police said: "Please pass on our huge thank you to all those who shared this post, we had calls from all over the country with possible sightings in London, Thames Valley and Manchester, to name just a few."
Expensive jewellery, photographic equipment and a laptop computer were also stolen in the burglary and officers said they were continuing to investigate the incident.