Cleethorpes pool reopens after floor repairs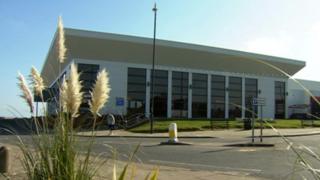 A swimming pool which had to be closed after some customers slipped on the poolside flooring has reopened.
Cleethorpes pool was closed on 1 March for the floor to be re-laid, despite a £2.5m refurbishment in February.
North East Lincolnshire Council said the new flooring had passed "rigorous testing" to ensure it met safety standards.
The authority said the work had been carried out at no cost to the council.
Sarah Taylor, whose three-year-old daughter Chelsie injured herself after slipping on the floor, was one of several customers to complain about the poolside flooring.
Tests suggested the resin used to seal it had reduced its slip resistance, the council said.
Labour councillor Mick Burnett said: "We are confident that the new flooring has passed a number of rigorous tests, which have been independently confirmed to Health and Safety Executive standard, and we are pleased to re-open the pool to customers."