Humber Estuary port development plans to be reviewed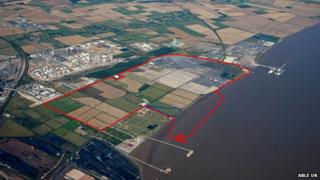 Plans to build a £450m wind turbine factory are likely to be delayed after Parliament agreed to review objections lodged by a rival port operator.
Transport Secretary Patrick McLoughlin gave the Able Marine Energy Park (AMEP), on the south bank of the Humber Estuary, the go-ahead in December.
It involves the compulsory purchase of a small triangle of land owned by Associated British Ports (ABP).
But ABP objected as it wants to build a new jetty in the same place.
Following a two-day hearing, the House of Lords' Chairman of Committees, Lord Sewell, and the House of Commons' Chairman of Ways and Means, Lindsay Hoyle, agreed the decision should be reviewed by a joint committee.
Able UK, which had planned to build the marine park this year, said the decision meant "further lengthy delays".
An ABP representative said: "Today's decision is undoubtedly a positive step forward and can now pave the way for a compromise to be agreed that will successfully deliver both AMEP and ABP's Immingham Western Deepwater Jetty without further delay.
"ABP's compromise proposal will not threaten any of the jobs Able UK hopes to create."
But Peter Stephenson, executive chairman of Teesside-based Able UK, said: "The alleged 'compromise' that ABP has put forward is that we should make a major reduction in the length of the quay at AMEP in order to avoid including the 'Killingholme triangle' which the government has given us the go-ahead to acquire.
"ABP know full well that this simply isn't feasible... if they succeed then AMEP will not happen."